[ Having found a nice quiet study and connected room to spend some time in, he's been relaxing in there-- if one can call it relaxing, since his mind hasn't been on anything else. He has a forgotten cup of tea on the table in front of him and is watching something out the window... or is he?
On his lap, held in his hand, an unfolded picture lies there face-up. It's a sketchy thing, but the way he's holding it, one would think it a treasure. ]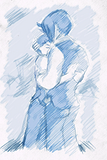 ... Is this how you felt, sir? [ Murmurs to himself. The
argument
was the last straw for him, and now he doesn't feel like anything can atone for the fact that he'd willingly, in their life-- been the cause of so much grief for his sibling. ]
I'm no good at this am I...
[ooc; Picture idea was by the wonderful Makoto-mun, I just scribbled quickly ;; Sorry if it's not that great, wah! Edgey needs cheering up, since well-- Apollo and Franzi (and awesome VK now) are his only family here ;; So, smilesprz? :3 ]
Current Mood:
blank